The development of a highly skilled workforce—a crucial part of Saudi Arabia's Vision 2030—recently took a new step forward through the country's first in-Kingdom international scientific research diver certification of a Saudi.

Diver Saeed Amin, who is a KAUST marine science Ph.D. student from the Biological Oceanography Lab in the University's Red Sea Research Center, completed and passed the rigorous American Academy of Underwater Sciences (AAUS)-accredited KAUST Scientific Research Diver Certification in November 2020. The advanced course is the first of its kind conducted in the Kingdom, with Saudi Arabia now having its own home-grown, globally accredited scientific diving capabilities.
"I'm proud to be the first Saudi to become an AAUS-KAUST certified scientific research diver," Amin said. "Receiving the certification is an amazing achievement in my academic life, as I obtained it from a unique educational institution like KAUST. The certification is also an important bridge that helps and facilitates my current fieldwork and my future scientific research and career. On a wider level, the course is a great opportunity for any student or researcher interested in studying marine environments."
A unique program
The AAUS/KAUST Scientific Research Diver Certification was introduced on campus in February 2020 by the University's Coastal and Marine Resources Core Lab (CMR), providing an opportunity for KAUST to greatly advance scientific diving proficiency in the Kingdom. CMR is currently the only facility in Saudi Arabia certified to conduct the AAUS-accredited course, making it unique in its ability to train scientists to perform underwater marine research for applications ranging from industry to protecting the environment.
Operating an AAUS-certified program in Saudi Arabia comes after a decade of CMR's work in influencing, educating, training and developing scientific diving standards in the country. CMR's collaboration with the Saudi Water Sports & Diving Federation provides an opportunity for KAUST to advise at the highest levels of scientific diver regulations in the Kingdom.
Becoming AAUS-accredited is no easy task. To be certified to teach the AAUS-accredited standard of scientific diving training, an institution must first have a chartered dive control board, a scientific dive safety manual and a designated scientific dive safety officer. Then, a tailored diver training course must be written and approved, and the dive safety officer must be accredited to teach. CMR's Scientific Diving Officer and Master Instructor David John Pallett worked hard to develop a peer-reviewed diver training course. Pallett is now the first and only AAUS scientific diver trainer instructor in Saudi Arabia.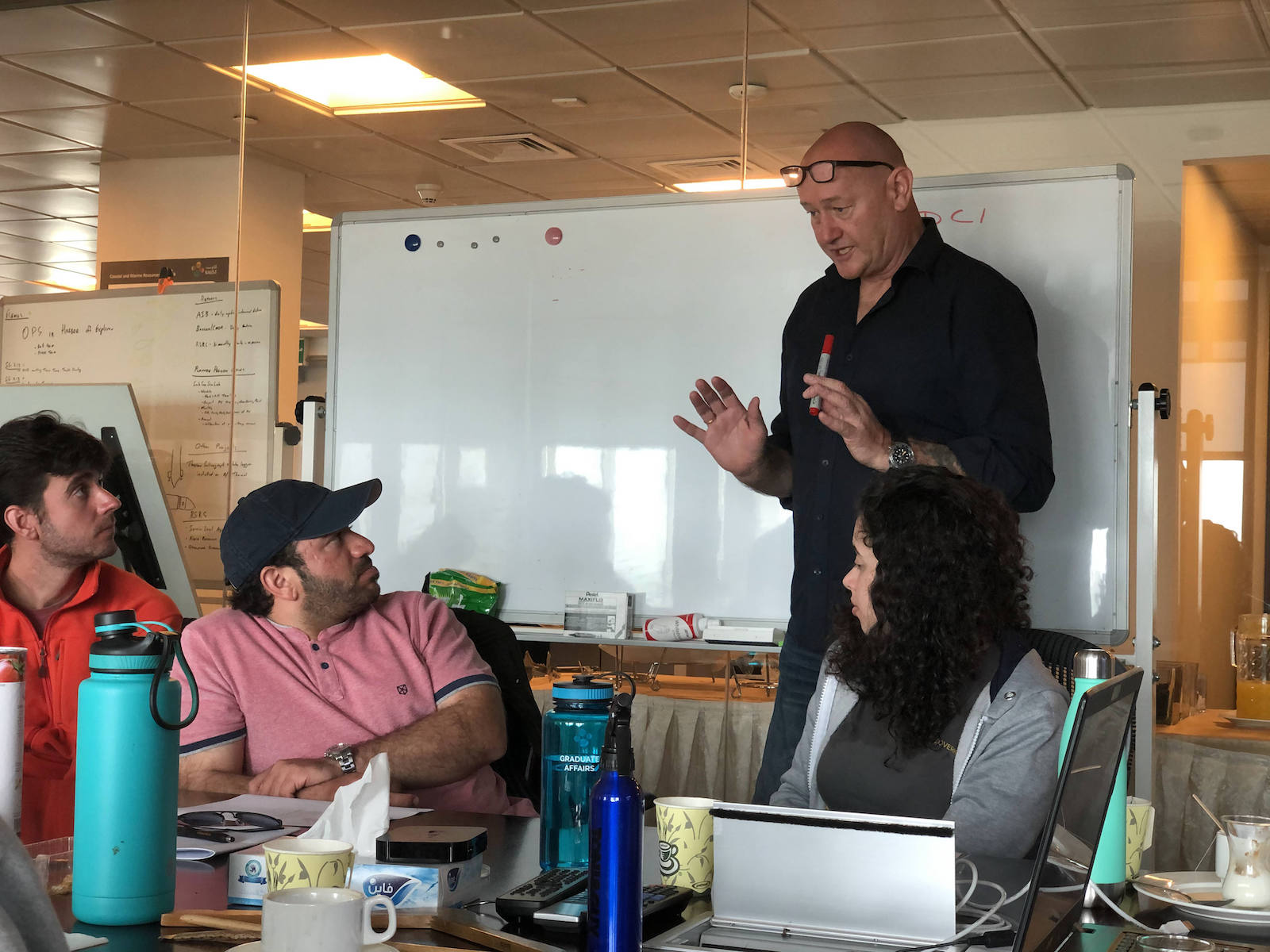 David John Pallett (standing), KAUST scientific diving officer and master instructor, provides classroom instruction as part of the University's scientific research diving course. Photo by Susann Rossbach.

​
The accredited course provides 100 hours of intense, advanced training over 12 days, which take place on top of the standard open water training for recreational diving. To date, KAUST has now certified a number of students through the program, with the amount due to increase as COVID-19 restrictions are lifted and close-proximity training is resumed.
Advanced qualifications
"To take part in the course, become certified and carry out meaningful scientific diving work, students do not necessarily have to have vast experience in diving—or even be strong swimmers," Pallett noted.
"On day one, I turned up [for the course] and admitted that I couldn't swim," Amin said. "To me, this seemed like a deal breaker. How could I get to such an advanced stage of diving without being able to swim? Luckily for me, I had David and his certified scientific diving assistant, Susann Rossbach, who took me by the hand and taught me everything—a massive journey from learning how to swim to learning how to dive at an incredibly advanced level."
Pallett appreciated the help of Rossbach in training the scientific diving students. She worked extensively with him throughout the course while she finished her KAUST Ph.D. in marine science.
"Susann worked throughout the entire course as my right hand to help get students through the program," Pallett said. "She will be an asset to her new role in the Kingdom as an environmental chemical science manager."
"During the course, whenever we returned to the KAUST shore, I was excited for training the next day," added Amin. "One of the best parts of the course was the teamwork and enthusiasm—you could feel the positive energy from each member of the team."
After completion of the course, divers are qualified to help others in emergencies; perform advanced CPR; and carry out Emergency First Response, advanced oxygen administration and safe automated external defibrillator use. Divers are also able to deal with decompression sickness, or the bends, and arterial gas embolisms, and they even receive an introduction to Hyperlite hyperbaric stretcher methodology.
The work that trained scientific divers are able to carry out in extreme marine environments includes seabed scientific research; the recovery of scientific instrumentation; commandeering and assisting a remotely operated underwater vehicle; and assisting in the recovery of an aircraft black box.
"The certification is an outstanding tool that allows divers to study the marine environment," Amin said. "Scientific research diving is strongly connected to environmental conservation programs that protect marine environments and ecosystems. The Red Sea provides a unique environment for studying and investigating factors that promote the growth and adaptability of marine species that sustain the Red Sea's ecosystem."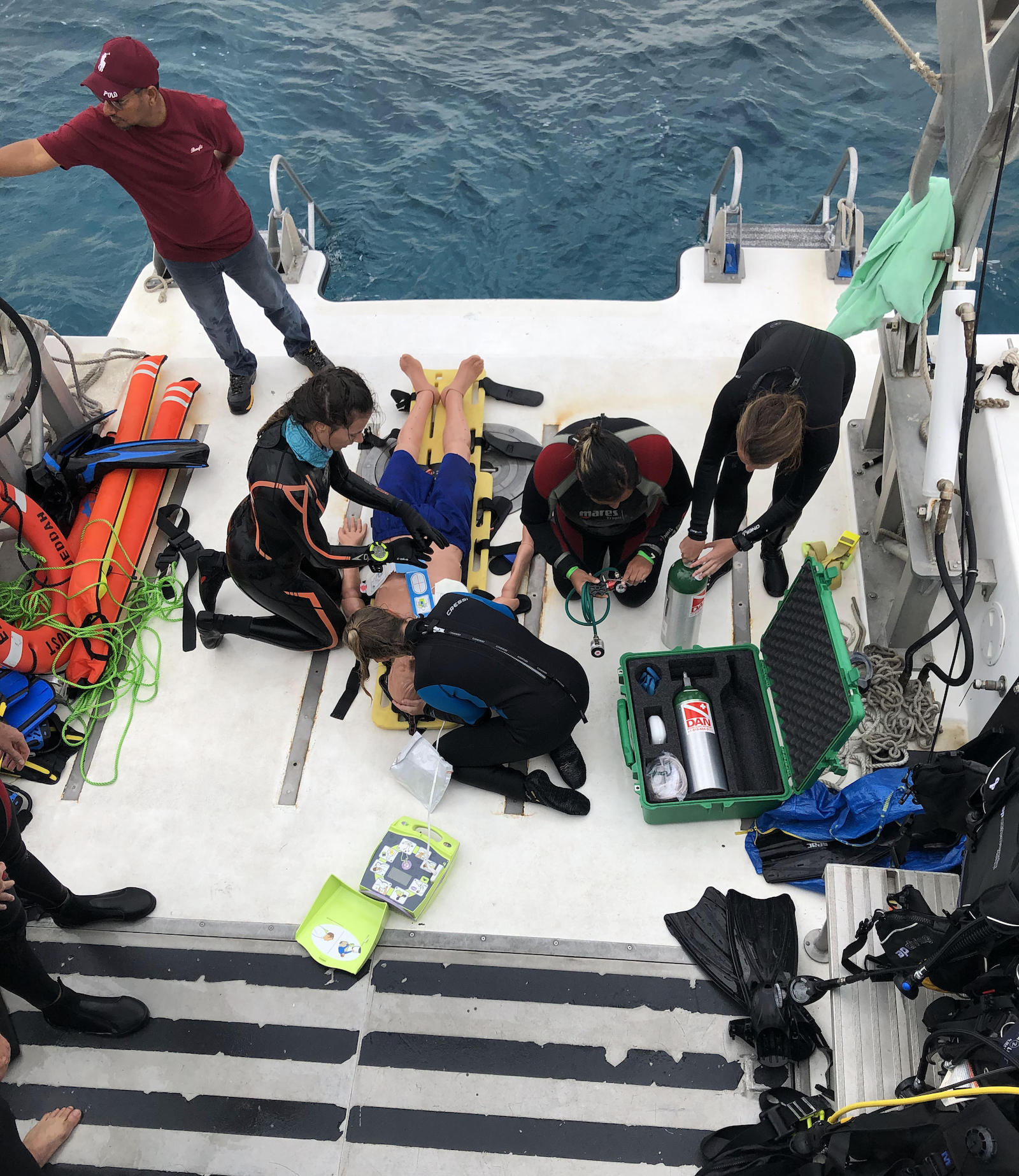 Divers seeking certification from KAUST's American Academy of Underwater Sciences-accredited scientific research diving course practice assisting during an on-deck emergency. Photo by David John Pallett.

​
Reaching out to the Kingdom
For KAUST and the Kingdom, the course meets a real need for Saudi citizens to lead in their marine science fields of expertise.
"Now that we have one Saudi national trained to such a high standard, Saeed can go on to further continued advanced scientific diver education—eventually to instructor level, if he chooses—where he will be able to pass on his experience by training others," Pallett said. "This is what makes KAUST and its 12 Core Labs stand out—the University and its facilities invest in the future of the students and, by default, that of the Kingdom, the wider region and the world."
"Having local talent trained to such a high standard provides fantastic opportunities for the transfer of education to other institutions in the Kingdom," Rossbach stated. "This is only the beginning of KAUST's work in scientific diving."
"Looking to the future, KAUST has the opportunity to build on the course's success, expand access to it and certify more Saudi nationals," said Lloyd Smith, CMR lab director. "Students from across Saudi Arabia and further afield may now realize their ambitions in underwater research, placing Saudi Arabia on the map for scientific diving for the first time in history."